Trivia
Milton Bradley commissioned Reuben Klamer to come up with an idea for their 100th anniversary, in 1959. Klamer invented "The Game of Life", inspired by a "Checkered Game of Life" game board he saw in the Milton Bradley archives.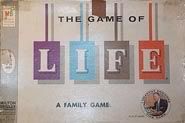 Melinda (who's on W♥M) is the person that introduced me to the wonderful world of Wally Pleasant. We were working at KFSR and she used to have to review records to put on rotation. She noticed that Wally had some drawings of Morrissey, or something, in the liner notes of Houses of the Holy Moly (1994), at least that's the story that I can best remember!
Of course we had to listen to it! My instant favorite off that record was probably "Alternateen".
You can probably guess from listening to "Let's Play Life" that Wally's style is a comedic (but smart) folky style. He became more involved with playing his music, while studying political science at Michigan State University. With the exception of Music for Nerds & Perverts (2004), all of his releases are from his own record label, Miranda Records.
He seems to have a large following in Oregon or something, read this from his website:
We always are happy to hear from people on the message board so keep those "Wally should come play in Oregon" requests coming. If anyone is interested in booking Wally for performances please call 517-803-8467.
If you like what you hear, you can get some CDs (out of print CDs are still sold as CD-R) on the official website. You can also download some samples: www.wallypleasant.com/music.cfm