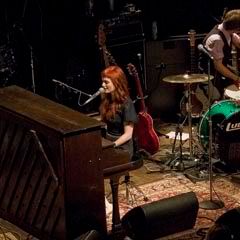 Tour

10/03/07 Irving Plaza - New York, NY
10/04/07 Irving Plaza - New York, NY
10/05/07 Orpheum Theatre - Boston, MA
10/07/07

Higher Ground - South Burlington, VT


10/09/07

Phoenix Concert Theatre - Toronto, Can


10/10/07 House of Blues - Cleveland, OH
10/11/07 House of Blues - Chicago, IL
10/12/07 House of Blues - Chicago, IL
10/13/07 The Vogue - Indianapolis, IN
10/14/07 St. Andrews - Detroit, MI
10/16/07 The Pageant - St. Louis, MO
10/17/07 The Eagles Club - Milwaukee, WI
10/18/07 First Avenue - Minneapolis, MN
10/20/07 Gothic Theatre - Englewood, CO
10/23/07 Big Easy - Boise, ID
10/24/07 Big Easy - Spokane, WA
10/25/07 Crystal Ballroom - Portland, OR
10/27/07

Commodore Ballroom/House of Blues - Vancouver, Can


10/30/07

Mount Baker Theater -

Bellingham, WA


11/02/07 Paramount Theater - Seattle, WA
Alison Sudol, the lead singer of A Fine Frenzy, has a voice. She fills the album with a warm and sultry voice. She reminds me of Brandi Carlile. But great vocals don't cut it. Some of their songs have interesting openings, but they always degrade into repetitive themes.
Sudol shows aptitude as a lyricist , she has a lot of songs about love and heartbreak. In an interview with Harp Magazine Sudol said
I consider myself a writer. I love writing songs. That's my best way of writing and I love the challenge of finding the lyrics that fit the melody it's like a puzzle to me. So that's my favorite way to write. But I love writing anything.
Thats good to hear because their are literally thousands of heartbreak songs (see High Fidelity). Its a hard genre to stand out in and shes not up to snuff, but she loves to write so that should be its own reward. Even "Almost Lover", which I thought was their best song on the album, didn't impress me lyrically. "Almost Lover" was the first song I heard off the album. A couple of months ago I heard it on Morning Becomes Eclectic from KCRW. The song interrupted my work and demanded that I payed attention. I stopped working and listened. Its simple , powerful, and catchy. Its not rounded though, it doesn't stand up to multiple sittings. Though, it hints at a better future for this band.
From what I gather this band is young, Sudol is 22. Hats off for trying. "Almost Lover" hints to me that they have a future of good music, but they really need to loose the repetitive poppy feel. I wouldn't change the radio if A Fine Frenzy came on, that puts them in the mediocre pile. This was an okay freshmen release, hopefully they'll comeback again with something great.
10/01/2007 21:15:32
Alex
my♥posts
www.afinefrenzy.com